The Snetterton Survivor
The Snetterton Survivor
We all love to discover more about our classic Jaguar's past, asking questions such as: who was the first owner? Where has it spent most of its life? And most importantly, has it been loved and cared for? Unfortunately for this 1964 roadsters' story was swiftly cut short just 3-months into its life, following a Snetterton track day incident by its first owner, a young Yorkshire millionaire 'playboy', Tom Casson.  Careless Casson made no attempt to repair the car which resulted in the classic not turning a wheel for 40+ years. Now in the hands of a true caring Jaguar enthusiast and arriving at our Kentish countryside headquarters, the E-type is set to begin a full nut and bolt restoration with originality and preservation the leading factor.
Purchased new by a young Yorkshire millionaire 'playboy', Tom Casson.
Involved in a Snetterton, Norfolk track day incident just 3 months later.
Due to its tragic past, the E-type remains mostly original and untouched.
Full matching numbers and believed to be retaining its original paintwork.
The arrival
Upon arrival and inspection of the E-type, our specialists continue to find countless signs of originality and genuine low mileage, certifying the early tragic story of this roadster. The team make a start by stripping the shell, cataloguing parts and preparing the car to be media blasted. The media blasting is a key process of all our E-Type UK restoration as this phase ensures all contaminants are removed, producing a clean canvas for the journey ahead.
During the strip down, the team begin to find more original and rare parts, usually lost or replaced over time, these include:
Fuel tank with bumper pad
Brake reservoir pipes
Bonnet locking latches
Period dated ignition coil
Door rain tin plate guards
Original carb tag
Metalwork Correction
Having been stripped and blasted the team are clear of the task at hand. The media blasting process helped to uncover more of this Roadsters story, behind the paint sat poor repair attempts by other owners in returning this icon to the road. Having gathered the list, the following panels required replacing:
Complete front floor section
Gearbox tunnel
Inner and outer sills
Sill ends 
Footwell kick panels.
PAINT PREPARATION
Passionate about E-types, E-Type UK prides itself on the quality of work that is delivered in every aspect of our offerings, with restorations no exception. Providing perfection across the board, all our restorations undergo countless hours of bodywork to ensure our Jaguar E-types are delivered with outstanding body lines, panel gaps and long-lasting paint depth. With the metalwork stage complete, all corrosion removed and new panels fabricated and installed, the E-type begins this important paint preparation phase. With a careful eye, consistently checking lines and edges, the perfect E-type shape takes place! 
A second chance
Due to the nature of the E-type's story and with countless original factory components, the client has decided that the E-type is to be completed towing the fine and difficult line of originality/sympathetic vs complete restoration. Due to only being road-going for 3 months, the trim and seats saw very little use, thankfully today, these items remain in fantastic condition boasting minor damage and charming patina, a result of careful preservation from past custodians. Using heritage trim cleaning methods, the Roadster original Grey seats are deep cleaned, treated and gentle repaired for use but preserving the charming age of the leather. Other original components carefully restored include:
Triple SU carburattors
4-speed gearbox
IRS housing
Front suspension arms
Interior and components 
An exact match!
A result of misuse and damage from this E-types earliest months, this Roadster has been preserved for the last 60 years! Boasting countless factory original features, which includes untouched paintwork. While the majority of the paintwork was scraped, scuffed and damaged, some areas allowed the team to machine polish and reveal the fantastic original Opalescent Maroon colour. Using specialist techniques, the team are able to exactly mix and match the factory finished paintwork! With the shell now painted in its factory heritage colour, we are pleased to share an insight into the painting process as the team lay down 3 layers of solid and 3 layers of high quality clear, building a beautiful and mirror-like finish!
Back to perfect
Since being painted the Snetterton Survivor has powered through its build-up stage. With originality and preservation key to this restoration, additional time has been dedicated to ensuring salvageable original components are carefully refurbished to be used again... we're talking as far as restoring original securing bolts with period and factory correct stamping on the head, it's all in the detail. Recent milestones achieved include:
Fully rebuilt original 4.2 L straight-six XK engine paired with original and recommissioned 4-speed gearbox, then fitted
Recommissioned IRS unit and suspension built-up and installed
Front suspension built-up and installed, creating a rolling chassis
The remaining engine bay is built up with a delicate mixture of original and recommissioned parts.
Interior wiring loom installed alongside original dash and trim panels
READY FOR TRIM
Now built up, fitted with beautiful brightwork and tested around our private facility, the Snetterton Survivor is ready to head off for trim! Following the same goals, the trim is to be returned to better than factory condition, however, components such as the seats, since these remain in fantastic condition, they are to be kept original to ensure the E-type doesn't lose its story and heritage.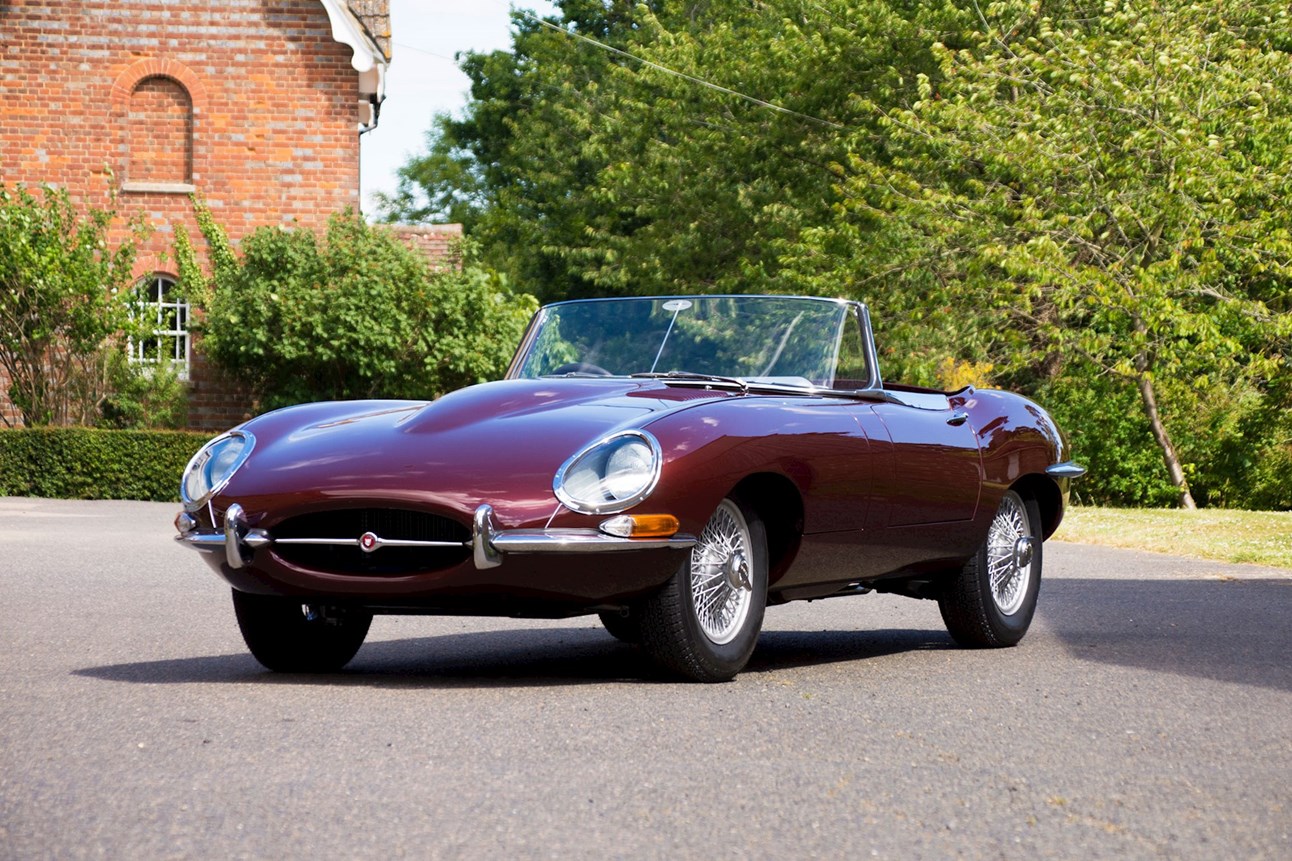 A breathtaking finish
The grand return of the Snetterton Survivor, following being trimmed by industry-leading specialists, this Series 1 roadster has been given a new lease of life! Rolling back into the workshop finished in a factory correct Old Grey, with an antique finish to give the interior that frozen in time effect. With the remaining brightwork being finished off, a brand new period correct wooden steering wheel to be fitted, the E-type will soon begin its 500 miles shakedown, testing set-up and reliability. Ensuring perfection once the E-type is delivered.