Braking System
Here at E-Type UK, our reputation as a renowned E-Type specialist is the result of years of expert knowledge and extensive experience in Jaguar E-Type restoration, upgrades and more. 
Alongside our expertise, we are also passionate about the iconic E-Type, so we understand that for many, the restoration of Jaguar E-Types should respect the model's original specifications. 
However, as a model from an older era, the E-Type's original specification is not designed for modern driving and can ultimately interfere with your driving experience.
Our Jaguar E-Type upgrades act as the perfect solution, providing you with an enjoyable driving experience without impacting the character and heritage of the iconic E-Type.
The E-type Braking System
In 1961, when the ground-breaking E-Type was launched, it featured a Kelsey-Hayes braking system that leveraged a Dunlop brake caliper. While this was the pinnacle of pioneering brake technology at the time, the brakes would experience a brake fade when hot, resulting in limited or a complete lack of braking power.
Due to this, Jaguar offered a competition brake disc upgrade which took advantage of larger calipers that were fitted to the Jaguar Mk IX. This was adopted for racing and is allowed for FIA compliance today.
With the release of the Series 2 E-Type, improvements were made, one of which included the addition of a more conventional servo-assisted braking system. The Series 2 represented the first upgrade to the caliper as it transitioned from a single-piston to a 3-piston Girling front caliper.
Today, there are several options to choose from when it comes to upgrading your E-Type brake system including the traditional upgrade, individual component upgrades, and right through to a full brake system renovation.
Full Braking System Upgrades


Single or 3-piston Setups
E-Type UK is proud to be able to offer our clients the option of a traditional single or 3-piston brake setup, a suitable solution for your E-type whether your looking for road or race preparation.

A traditional single-piston or 3-piston brake system setup offers several benefits for drivers seeking reliable and straightforward braking performance. These systems are known for their simplicity, making them easier to maintain and repair. Single and 3-piston brake systems on a Jaguar E-type also provide a more linear and predictable brake response, ensuring consistent stopping power and allowing drivers to modulate their braking with confidence. Additionally, these setups tend to be more affordable, making them an attractive option for those seeking cost-effective braking solutions without sacrificing safety and performance.


Performance 4-piston and 6-piston Setups
We can offer a fully upgraded lightweight 4-piston or 6-piston brake caliper with a choice of vented, cross-drilled or standard discs, fitted with modern compound brake pads.

Lightweight 4-piston or 6-piston brake calipers, combined with vented, cross-drilled, or standard discs and modern compound brake pads, offer several advantages for drivers seeking enhanced braking performance and efficiency. The increased number of pistons allows for more even distribution of pressure across the brake pads, leading to improved stopping power and reduced brake fade. Lightweight calipers reduce the overall unsprung weight, contributing to better handling and responsiveness. The choice of vented, cross-drilled, or standard discs enables Jaguar E-Type customisations for specific driving conditions, with vented and cross-drilled discs providing superior heat dissipation and reduced brake fade during high-performance or sustained braking scenarios. Modern compound brake pads further optimize braking performance by offering increased friction and temperature resistance, ensuring consistent stopping power and reduced wear.
Thanks to our mastery in E-Type upgrades, we ensure that the upgraded braking system keeps within the E-Type's quintessential aesthetic while providing you with the braking power required for a smooth and safe driving experience.
Please note that our bespoke E-Type brake upgrades are offered to our clients exclusively as a fitted option.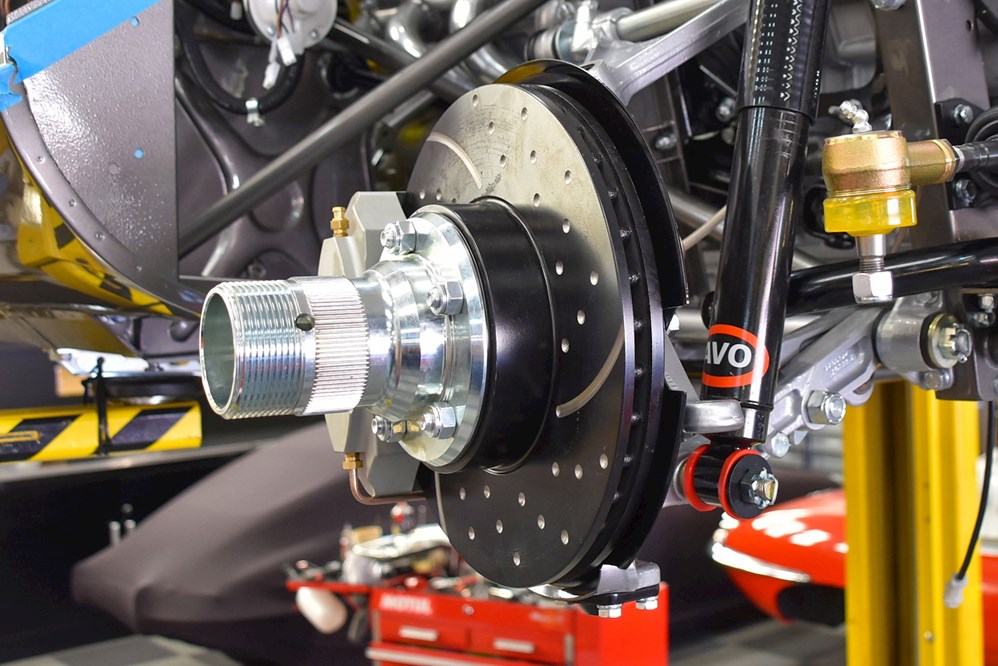 After More?
Not quite got your fill of E-Type upgrades?
The bespoke brake system upgrade is even better when paired with our ITG performance air filter upgrade. Designed to provide increased airflow to the Series 1 Jaguar E-Type, the ITG performance air filter is perfect for reaching your engine's full power potential.
If you're on the hunt for something a little more unique, we also offer bespoke builds and upgrades for your E-Type, ideal for helping you stand out from the crowd. If you wish to discuss the right brake option for your E-Type, any of the other upgrades that we offer or have any other questions, please get in touch with a member of our friendly team today.